Back
The Prisoner [Nummer 6]...
01/10/2023, 14:22 – Simon Parkes Blog ( https://www.simonparkes.org/post/the-prisoner)
The Unmutual - The Prisoner & Portmeirion-Webseite
[Portmeirion = Drehort der Fernsehserie "The Prisoner"]
Heute ist der Tag im Jahr 1967, an dem The Prisoner [deutsch: Nummer 6] zum ersten Mal in Großbritannien ausgestrahlt wurde. Eine Serie, die heute wohl aktueller denn je ist, sie löst weiterhin Debatten aus. Die tollste und am meisten zum Nachdenken anregende TV-Serie, die je gemacht wurde? Das sollte ich mal sagen!
https://www.facebook.com/unmutualwebsite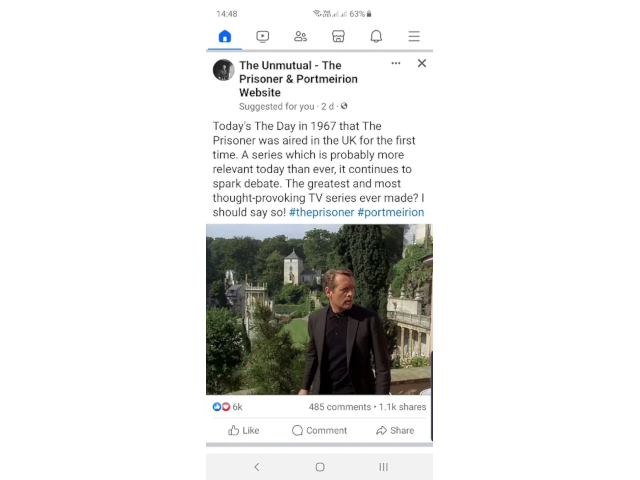 Subscribe to News
Receive current news in German language via RSS feed.
Further News
| | |
| --- | --- |
| 29/11/2023 | Sacred Wisdom - Be the leader of your life – 27 November 2023 |
| 26/11/2023 | Simon To Post An Update Today... |
| 23/11/2023 | Simon & Becky wish all of America CC A Happy Thanksgiving... |
| 23/11/2023 | How To Walk Downstairs In A Blizzard... |
| 11/11/2023 | US Army Cavalry Private... |
| 10/11/2023 | Two Widowed Penguins... |
| 01/11/2023 | Scientists May Have Identified Pieces Of Theia At Bottom Of Earth's Mantle... |